First of all, any attempt to use the search bar results in program freeze, where I have to force quit and restart to use the program.
Second, one of the recent updates has caused problems with copy/paste fidelity of multiple paragraphs/bullets. Copying and pasting a chunk of text can cause the text first few paragraphs to disappear, though the carriage returns still exist where the paragraph should be. Clicking on the lines of text that did get copied can sporadicly cause their text to disappear as well. Repeated attempts to copy and past the text can eventually cause the entiretly to paste, but it's sporatic and I can't figure out why it works.
Edit: I've also discovered I can no longer copy and paste a table from excel to an experiment. Upon pasting, I just get 3 blank lines instead of the table.
Test case:
1: source text being copied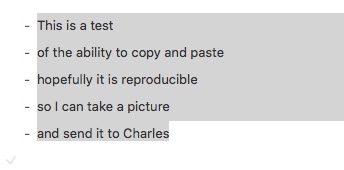 2: What my initial paste looks like: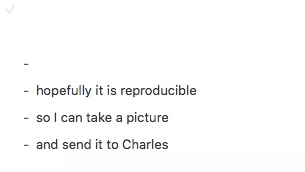 3: Then I clicked on the "hopefully" line of text and it disappeared: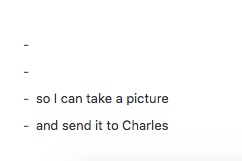 4: I clicked on the "so" line and nothing happened, but when clicking on the "then" line, the "so" line disappeared: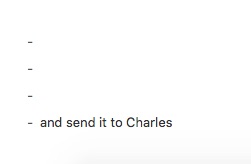 No amount of further clicking would get the last line to disappear.
5: I deleted everything and tried pasting a second time, this time all the text arrived and didn't disapper when clicked on.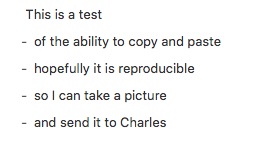 However, when I deleted again and tried pasting for a 3rd, 4th, and 5th time, I had the same disappearing text problem illustrated in the first 4 photos.
Things that might be helpful to know:
-Findings version: 2.1 5532.d4ed8934
macOS version: Version 10.11.6 (Build 15G22010)